Cheer Story: A Regional Park You Won't Forget!
---
---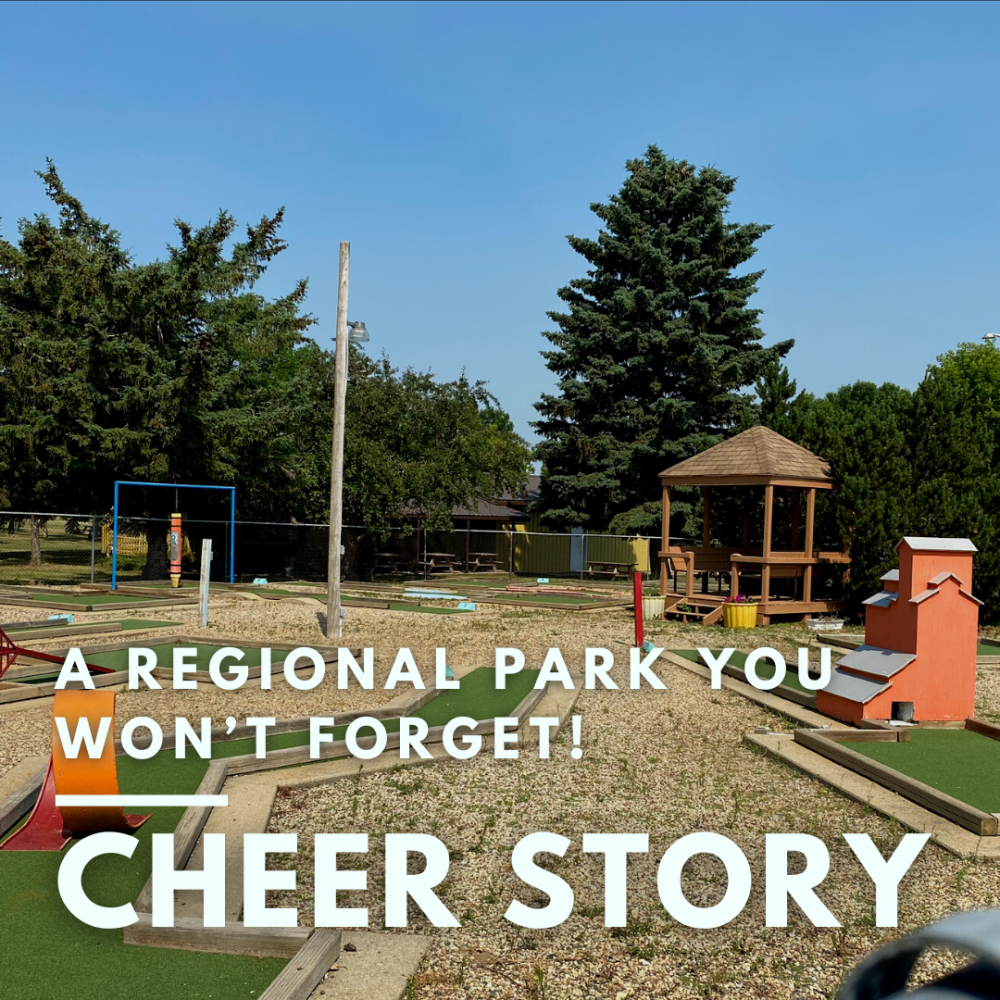 The Oungre Memorial Regional Park (OMRP) is a unique and special gem in south east Saskatchewan. It provides local residents and tourists an opportunity to relax, recreate and rejuvenate in its rural, quiet, beautiful setting. The location was established as a regional park in 1963, so 2023 marks its 60th Anniversary! This special milestone was celebrated in June with an event that featured a Karissa Hoffart concert, JJ Voss Concert, pancake breakfast, cornhole tournament, car show, bouncy houses and more!
What makes this regional park so special and unique? It has a Communiplex building that is open year-round! This main building has an indoor pool, showers (operates seasonally only), laundry facilities, meeting areas, and a year-round restaurant. It also has an arena (formerly a skating rink) used for basketball, pickleball, cabarets, weddings, reunions, and dances.
The restaurant/concession offers a varied menu. In the upper level of the Communiplex, there is a pool viewing area, meeting area, and fitness center. The Centennial building has a full-functioning kitchen with 60-person seating that can be rented for special events. There is also an 18-hole mini golf, a 9-hole golf course, and a new disc golf course. There are also horseshoe pits in the camping area as well as 3 playgrounds and two ball diamonds (one with lights).
The park hosts many events throughout the summer including a Canada Day celebration, a bar-b-que cookoff, a Firefighter Challenge (open to all) and fastball games. The pool has aquacise classes and private lessons were introduced in 2023 and are in high demand!
The park's success has been the result of local volunteers and board members, and the support of generations of families who keep coming back to enjoy the park's amenities! The park also attracts visitors from all over who love to take swimming lessons while camping. The park also depends on its management team and seasonal staff, who work hard to plan activities, provide quality experiences and maintain the assets of the park!
Learn more at https://www.oungrepark.com/ or https://www.facebook.com/OungrePark/
Credit Story Content: Lynn Severt, OMRP Management Team
---