Cheer Story: Disc Golf Taking Off in Saskatchewan!
---
---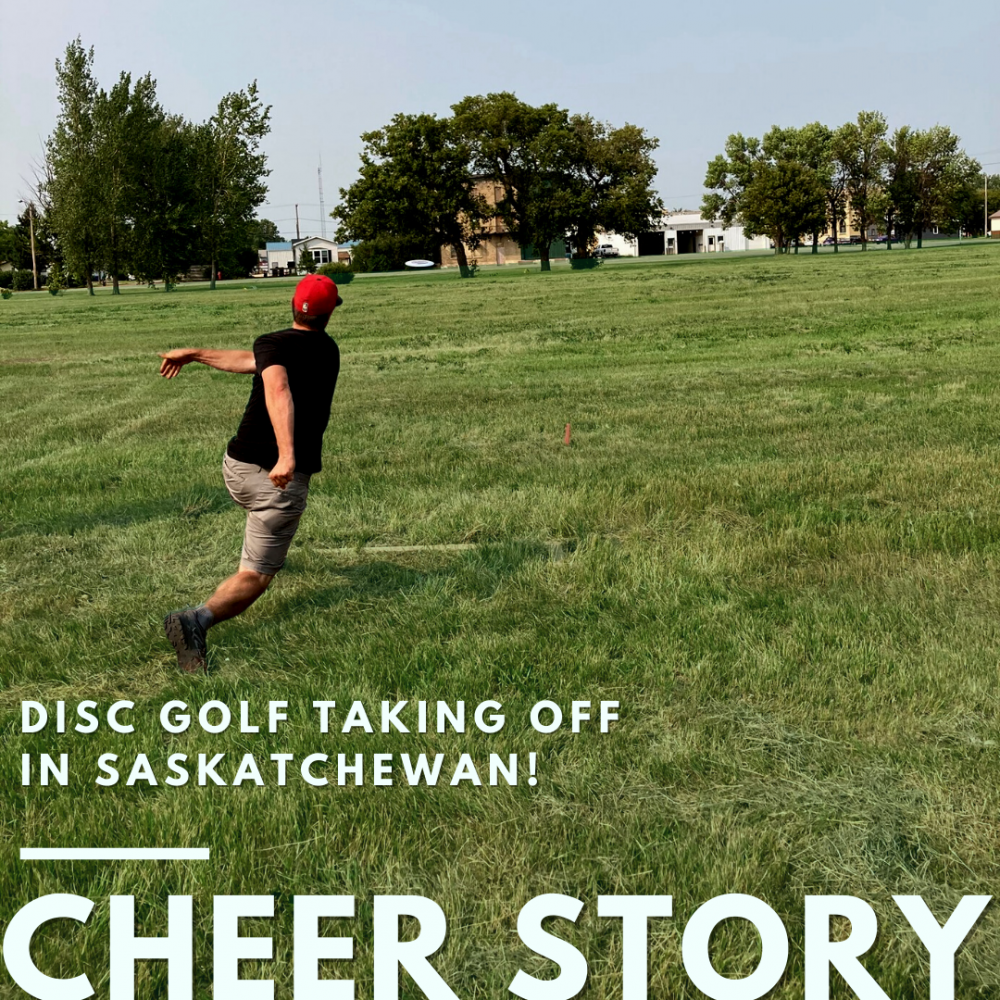 Disc golf has been growing in popularity over the years in Saskatchewan. Saskatchewan is home to roughly 70-disc golf courses, and there are more to come. This summer, a new course popped up in Arcola. The Arcola Optimist Disc Golf Park was open to the public on August 9th. With help from the Regina Disc Golf Association, the course was designed and installed.
What is disc golf?
Disc golf rules are easy to learn. The rules of disc golf and how you play are similar to traditional golf, but with disc golf discs instead of balls and clubs. One throw (stroke) is counted each time the disc is thrown and when a penalty is incurred. The goal is to play each hole in the fewest strokes possible. The player with the lowest total strokes for the entire course wins. The hole is completed when the disc comes to rest in a disc golf basket. Remember the most important rule: "The one who has the most fun wins!"
How did Arcola come up with the idea to create a disc golf course?
Over the course of a few months, several community members suggested that Arcola should look into building a disc golf course; The community members had played various other courses around the province, had great fun, and wanted to bring that experience to our Town!
Why did the community of Arcola want to offer disc golf as an activity?
Arcola had a greenspace area at the end of Main Street that had never been utilized over the years. A disc golf course seemed like the perfect way for all community members to enjoy this space!
What impact will it have on the community?
The Town of Arcola has already seen players locally and from afar. Our course can be found on the UDisc app, which will hopefully bring avid disc golfers to visit our small community!
Who can participate?
The simple answer is everyone. Disc golf is a healthy, inexpensive, recreational activity that anyone can participate in!
What kind of equipment is required?
Today's disc golf players use many different discs, depending on the course layout. There are drivers, midrange, and putt and approach discs.
A special thank you to our course building crew; B & A Holdings LTD, Eugene Brown, Spencer Dyer, Daniel Paul, Jonathan George, Paul Le, Regina Disc Golf Association, and the Optimist Club of Arcola who have the naming rights of the course! Also to the sponsors, Sol & Kim Food Ltd., Arcola Co-op, Lees Sales & Service, Eagle Oilfield Ltd., CEDA, Cornerstone Credit Union, Arcola Agencies, and JJ Trucking!
Cheer Story Submitted by Ghislaine Carter, Recreation Director, Town of Arcola
---