Cheer Story: Erin Wilson inducted into the Order of the Red Cross
---
---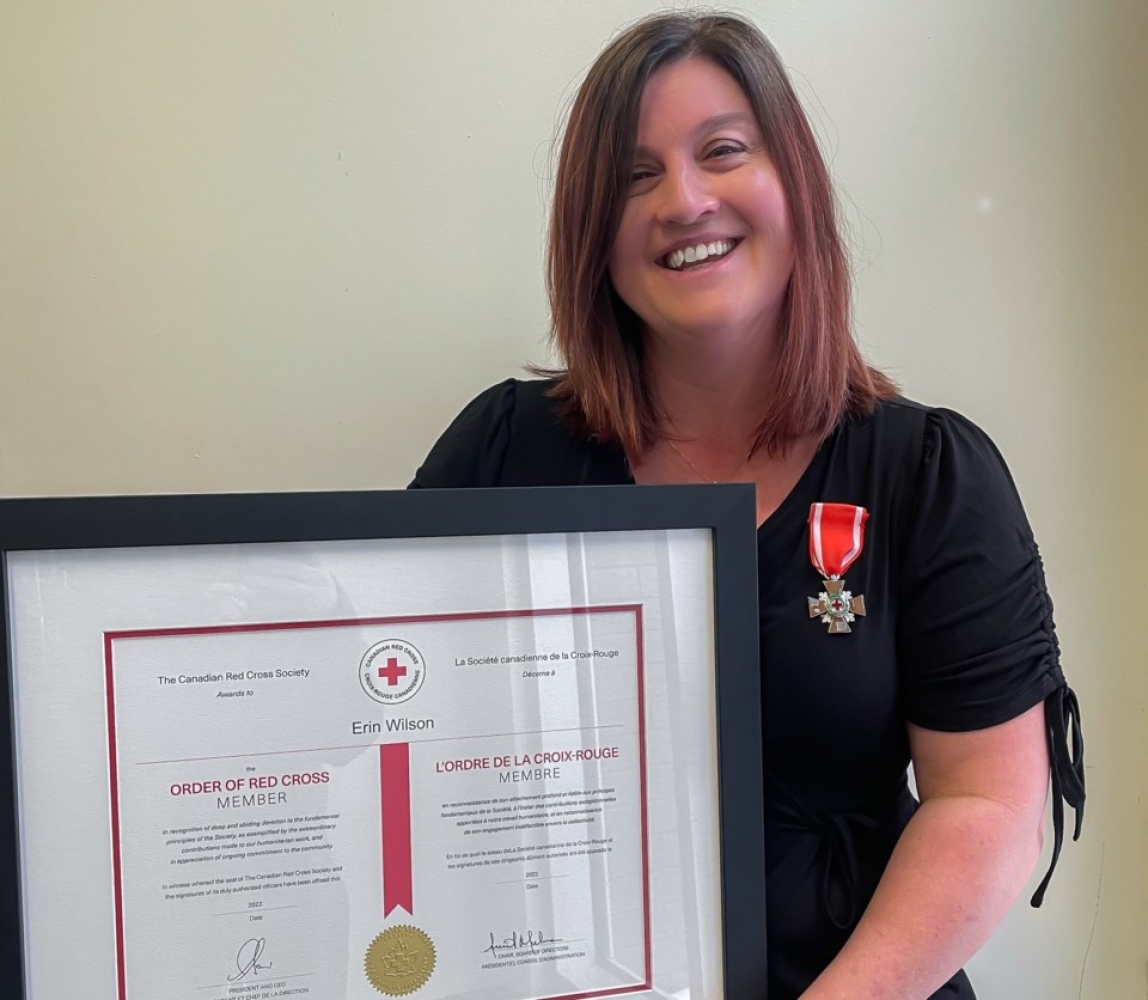 Estevan's Erin Wilson has been recognized for her many years of service to the Canadian Red Cross. Wilson was inducted into the Order of the Red Cross during an event in Toronto on Oct. 24. Up to 25 people from across Canada are enshrined into the order each year.
"It's not something that they hand out [to anybody]," said Wilson. "It's something that the process is a bit complex, and it's certainly something that I'm very proud of."
Four other people were recognized at the event she attended. She noted that her award number is 344, and she believes only 345 have been selected for the honour.
The citation that came with the award explained a lot of what Wilson has done over the years with the agency. A lot of her work has to do with the volunteer time that she has contributed in order to help improve water safety, and things she has done through first aid and the aquatic program.
"I don't feel like I'm doing anything special. I'm just doing something that I love, and to be recognized for the time and the activities that I've done is just icing [on the cake]. But I would never be doing it just to claim an award like this," said Wilson.
Joining the Order of the Red Cross causes her to look back on what she has done with the organization over the years, and she is grateful to her family and friends who supported those activities.
"It's an award that I've received, but I definitely couldn't have received it without having such a fantastic support team," she said. Wilson looks forward to being involved with the Red Cross.
"With the water safety program being removed from the Red Cross, it will be interesting to see what new adventures my volunteering takes with the Red Cross now," she said. She might be involved with first aid, psychological first aid or disaster management, but she won't be leaving the Red Cross any time soon.
Wilson isn't aware of anyone else from the Estevan area who has received the award, but she described Estevan as a community filled with great volunteers, and she would like to meet anyone who has received the award.
And she encourages people to volunteer and be involved with the Canadian Red Cross, because there are lots of ways to use their specific talents to help others.
Article credit: David Willberg, Estevan Mercury
Photo courtesy of Erin Wilson
Sask Today
---