Cheer Story: Estevan Art Gallery & Museum - Inside/Out
---
---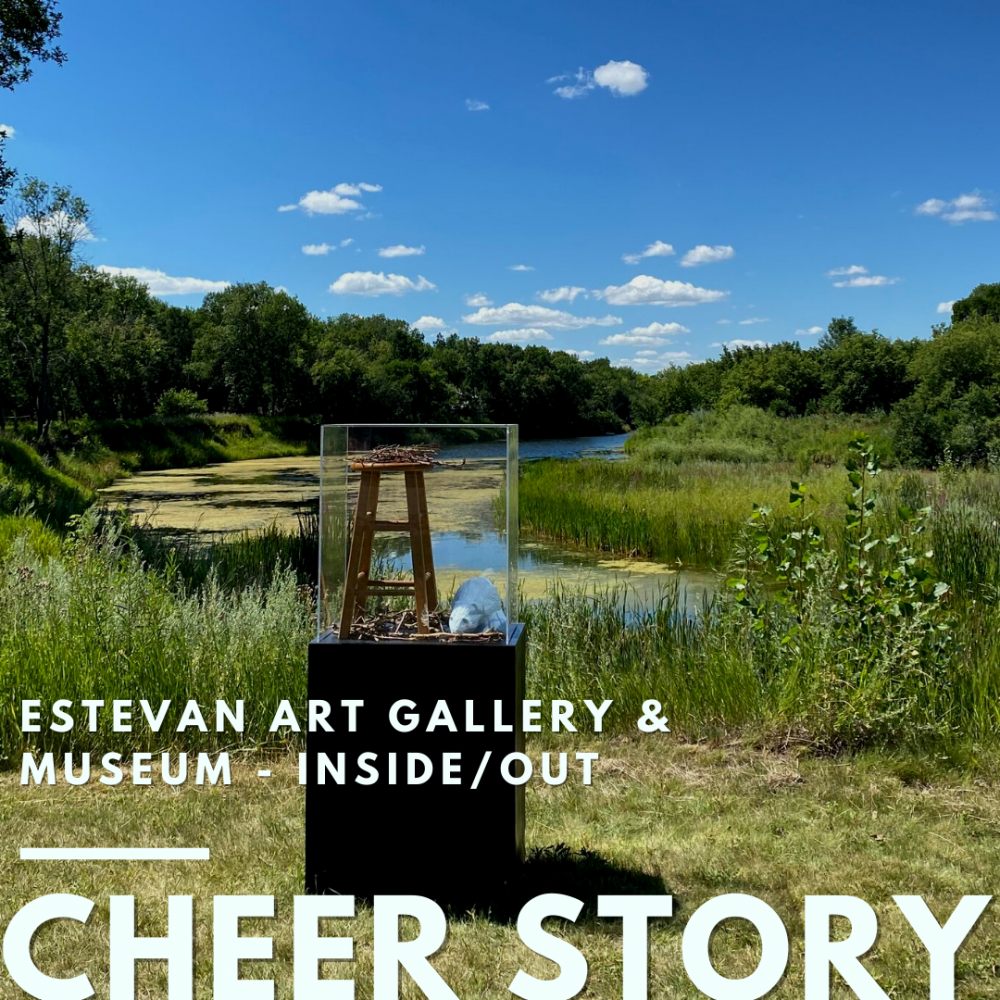 In the summer of 2020, the Estevan Art Gallery & Museum (EAGM) introduced an exhibit named "Inside/Out," with four outdoor installations at the Woodlawn Regional Park. It proved to be such a big success that they did a second "Inside/Out" installation in winter 2021, and a third installment in summer 2021.
How did the Inside/Out exhibit come to be?
During our 2020 programming year, the Estevan Art Gallery & Museum (EAGM) developed an outdoor exhibition during the closure of our gallery aptly named "Inside/Out". We had previously established a working partnership with Woodlawn Regional Park, which is located on the southern outskirts of Estevan.
When our original plans to work with Woodlawn were cancelled due to COVID-19, the opportunity to partner with them came in the form of a public art display. During the mandated public closure of the Gallery, exhibitions were postponed, meaning a loss of opportunity and revenue for artists and a lack of access to contemporary art for the public at large. In realizing that there was a need for artistic access and the desire for partnership, along with artists needing exhibition options, "Inside/Out" was born.
What impact or benefits does art (such as Inside/Out) bring to the community and citizens?
Mental and physical health has been a huge concern for our community during the pandemic. With the disruption of many activities for all family members, particularly organised sport, the need for supplying alternative engagement is desired within our community. Camping and recreational activities have long served as a reprieve because they are accessible and have always been part of the Saskatchewan landscape and tradition. Estevan is no exception to this. We are using a popular experience, camping and the visitation of parks, as a means to reach out and provide much needed content to our target audiences. Art provides an opportunity to engage with contemporary issues in an alternative way. A positive mental health focus was our goal.
Who were all of the artists that contributed to the Inside/Out exhibit?
The four artists that participated in the original "Inside/Out" were Regina-based artist Belinda Harrow, Weyburn-based Regan Lanning, Saskatoon-based Monique Martin, and Regina-based Zoë Schneider. We have since done another two installments of "Inside/Out" currently featuring Weyburn-based Chantel Schultz in our winter edition and our current installment featuring our newcomer Artist in Residence, Estevan-based Ruth Langwieser. Risk-taking is a major part of this project and I cannot thank these artists enough for believing in the project and participating.
What was your takeaway from the Inside/Out exhibit?
The entire pandemic was a constant shifting and pivoting, the changes were constant. However, slowing down, thinking of alternative solutions and developing this project were something that was of immense value not only to our institution but to citizens and artists we serve. Public art has long been a keen interest of mine as a Curator but the time to focus on a project such as this was used for other events or in house programming. "Inside/Out" shifted how we could provide artistic opportunities to artists and the public alike, it was also significant in framing our application for an artist in residence.
Cheer Story Submitted by Amber Andersen, Director/Curator of the Estevan Art Gallery & Museum
---