Cheer Story: Let's Get Physical with Wheatland Senior Centre
---
---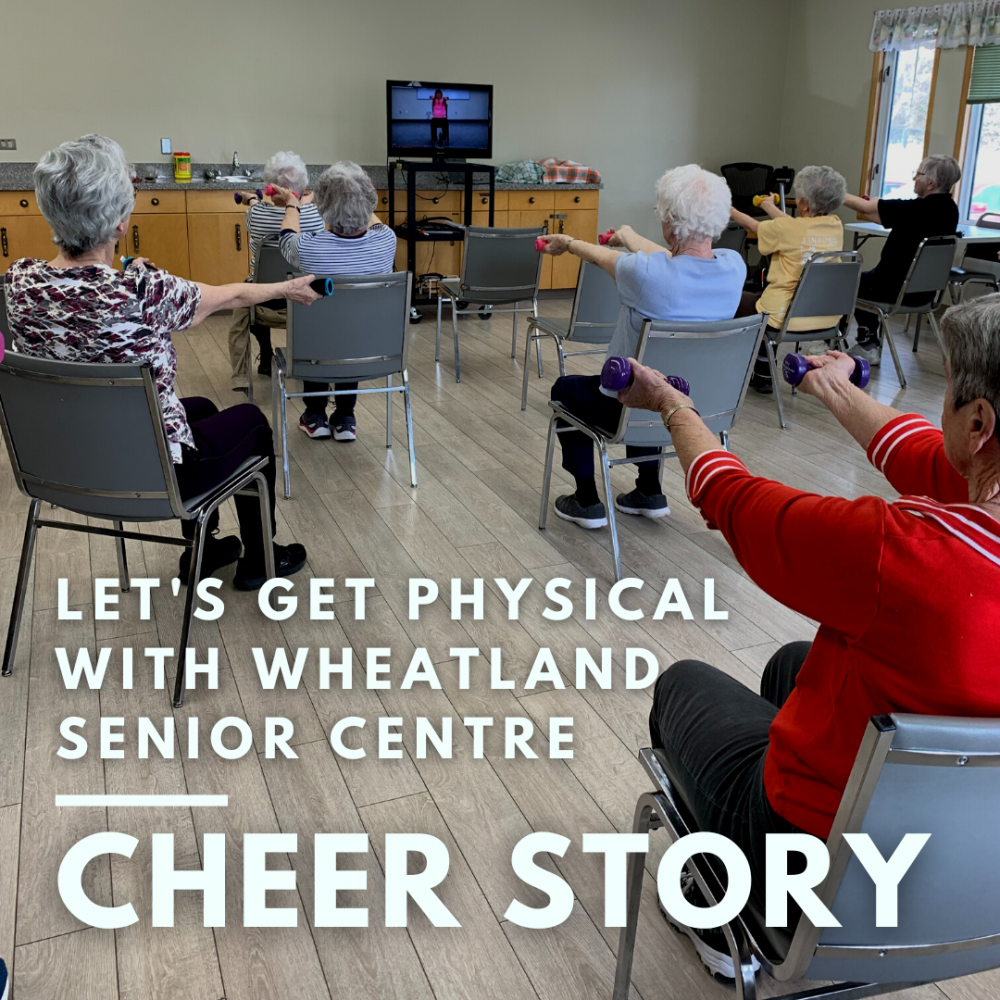 Let's Get Physical is a new senior-focused exercise program developed in collaboration between Wheatland Senior Centre and Saskatchewan Health Authority, in partnership with Weyburn Caravan Society and the City of Weyburn which began in February 2023. Wheatland Senior Centre is a community-based charitable organization that provides regular social, leisure-based programming for seniors, delivered primarily by seniors in the community. Since COVID-19 interrupted programming and shut down the Wheatland Senior Centre, reviving programs has been challenging. The new Let's Get Physical exercise program has been carefully developed with community partner support to address barriers that existed prior to COVID-19 and is intended to sustain participation into the future.
Wheatland Senior Centre received funding through the GROW Your Community Grant to purchase items needed for the exercise program to get started such as therapy-bands, balls, hand weights, and mats. The exercise program is provided free of charge for members of Wheatland Senior Centre, thanks to an additional program grant received from Saskatchewan Seniors Mechanism. The exercise classes are offered on Mondays, from 10:00 am to 11:00 am at the Wheatland Senior Centre.
Wheatland Senior Centre has been working with their partner agencies to enhance their programming with a goal of improving and maintaining health of seniors in the community through physical activity and social engagement. Being physically active improves quality of life and helps seniors maintain independence in the community for as long as possible. The exercise program is designed to engage seniors in health-promoting social and physical activity and build strong social connections with others without barriers. Wheatland Senior Centre has been working with Weyburn Caravan Society on a proposal for accessible transportation for those with assisted mobility needs to encourage as many people as possible to attend programs and events occurring at Wheatland Senior Centre.
To build program attendance, participants are encouraged to 'invite a friend' in an effort to reach those who may benefit from programs offered but may not be aware of what is happening at Wheatland Senior Centre. The new exercise program started with about 8 people and within a month, has grown to an average of 12-14 people attending regularly. An important component of the exercise program's success, in addition to the much needed funding assistance provided by the Grow your Community grant and Saskatchewan Senior's Mechanism program funding, has been the social visit time after the low-impact exercise program, which has created a positive, engaging environment for exercise participants.
Article Credit: Coral Schindel, Weyburn Wheatland Senior Centre
Photo Credit: Wheatland Senior Centre
---