Cheer Story: Local Arts Council Gets Innovative With Programs & Projects
---
---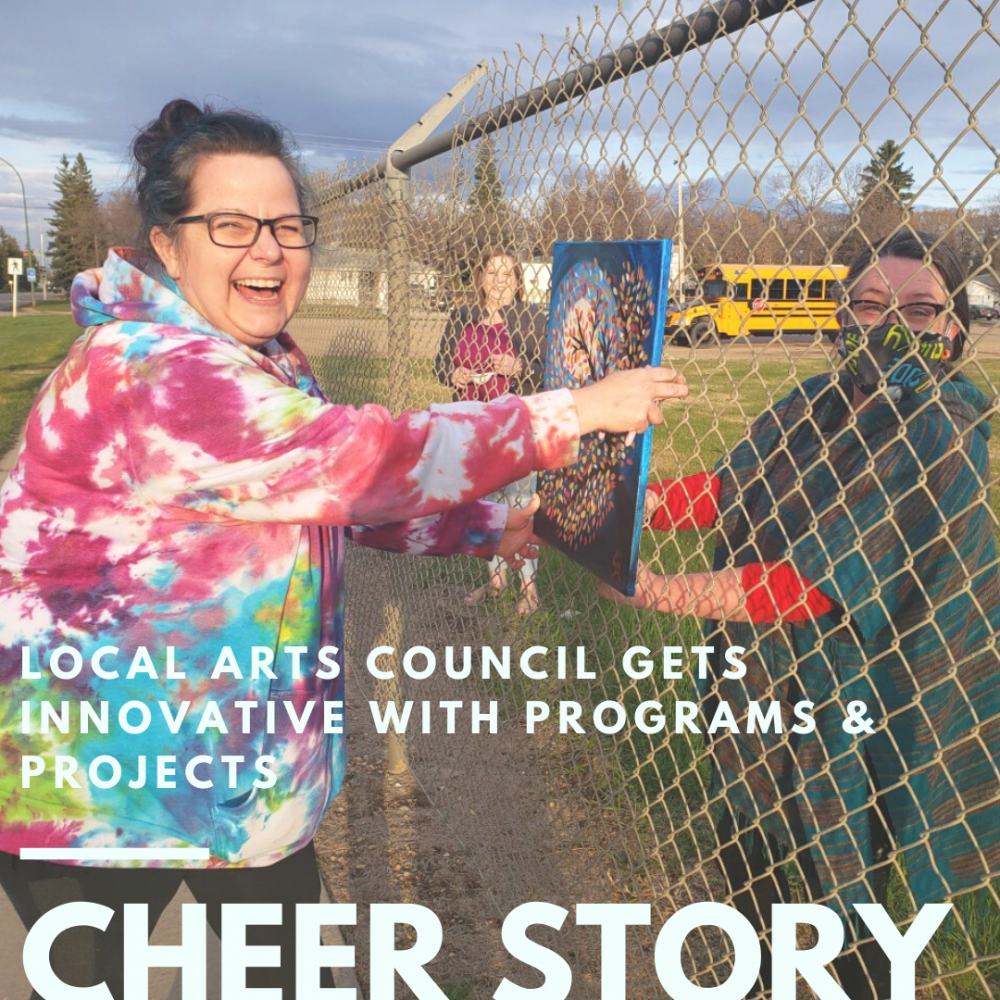 What types of projects has the Weyburn Arts Council (WAC) been doing? During the "shutdown" WAC rolled out the "Craft with WAC" series. Three (3) WAC members came forward and offered to host these videos, which lightened the load of responsibility. We tried to find crafts that utilized materials that would already be found in most homes. The craft was announced every Monday with a supply list, and on Wednesday there was a video teaching the craft. Videos were around a half hour in length. Some of the crafts we offered were homemade play dough, bird feeders, sock monsters, paper flowers and sidewalk chalk paint. You can find all the videos on our YouTube channel, and on Facebook.
We also rolled out the "Walking Gallery" found on 1st Avenue across from the hospital. With our galleries being closed, we wanted to find a way to still bring art to the citizens of Weyburn. We started by installing 12 works of art along a fence, which borders a busy walking route. The Gallery is open to the public, meaning that anyone who wishes to contribute a piece to the gallery is welcome to install it on the fence themselves. The goal of this project was simple: we wanted to bring joy and beauty and inclusion to the streets of Weyburn. In a time of being socially distant, it's easy to feel alone. This was a way of staying connected.
We are also offering an "Artist Spotlight" program to our local makers. With our summer art sale having to be cancelled, we wanted to provide support and exposure for our local creatives. For many artistic people, if their opportunity to sell disappears, so does their money for supplies to continue creating. This program is free to any local creative, artist, crafts person, musician and more. To be featured, click here!
What impact or benefits does art bring to the community and citizens? Art has the ability to raise spirits and bring joy to our community members. A simple concept like the "Craft with WAC" or the Walking Gallery can make people feel less isolated. Art can bring light to the darkness.
The community response has been incredibly positive! We have reached a new audience by taking our art to the streets, if you will. Galleries can be intimidating if you've never been to one. By upping our social media presence during this time, we helped interest new patrons, helped keep kids entertained and hopefully helped our local creatives stay creative.
Any upcoming projects? We are holding our annual pre-holiday art market called "Gifted" in November. This year we've changed the format a bit to accommodate the uncertainty of our times. Registration forms are available on the City of Weyburn website.
Cheer Story Submitted by Regan Lanning, Curator, City of Weyburn
---