Cheer Story: Reconciliation games hosted by South East Men's Fastball League
---
---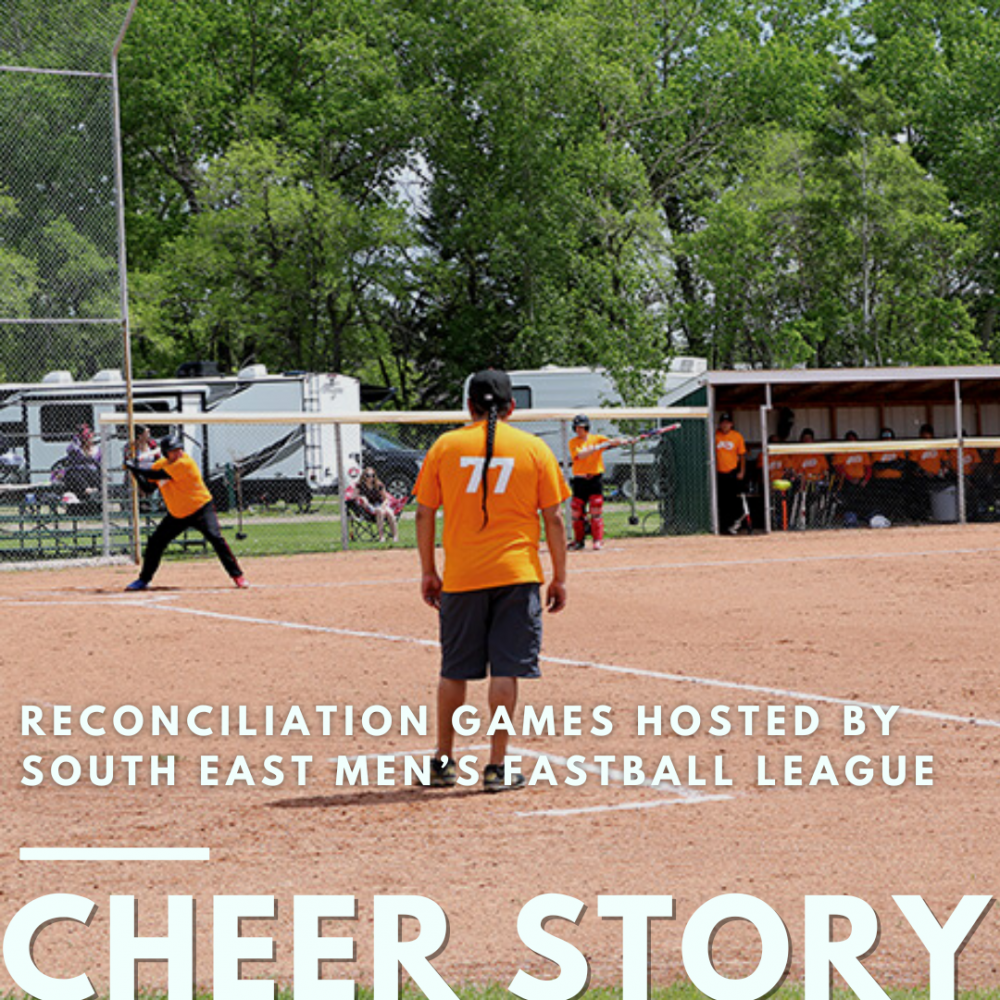 On June 11, the South East Men's Fastball League hosted a day of reconciliation games where all six teams in the league played against each other to promote reconciliation between Indigenous and non-Indigenous peoples. The event happened in Whitewood, which is also referred to as Treaty 4 territory. The three Indigenous teams played against the three non-Indigenous teams that day. The teams that participated are the Fleming Jets, Kahkewistahaw Jays, Whitewood Falcons, Round Lake Braves, Grenfell Gems and Cowessess Royals. Teams wore orange shirts with their team logos instead of their normal jerseys in recognition of honouring the Indigenous children and survivors of residential schools.
Tyler Thomlinson manager and assistant coach of the Grenfell Gems, shared his thoughts. "I think it's an important thing for us just because fastball is a sport that historically unites people, that's the whole spirit of Truth and Reconciliation, is trying to unite people, and fastball, at least in our area and lives," he said. "It's a wonderful avenue to celebrate the relationships of Indigenous and non-Indigenous people have with each other. It's a nice way to come together and celebrate the culture together too."
"It's great to have all the teams here and everyone out on the ball field, it's great to see everyone come out. Today is just about putting yourself in other people's shoes, you never know what other people are going through and with what happened in the past with our dark Canadian history, we need to talk about it," said Ian Glasser, president of the South East Men's Fastball League.
Chief Evan Taypotat of Kahkewistahaw also said a few words at the event. "We have to honour what today means, of what wearing the orange shirt means. Many times around this diamond, even many times at the hockey rink, when we're there skin colour doesn't matter and skin color doesn't matter today. It's just our best versus their best, and that's what we have to practice tomorrow in our day-to-day life.
"We have to make sure we take what we know here, and apply that in the outside world because these towns need the First Nation dollars to live, and the First Nations need these towns to live."
Taypotat said he hopes events like these can help lead by example to bring all communities closer together. "In Canada, we've got to make sure we work towards that. Today is a small step, today is a good step, but today is the right step and I thank the South East Men's Fastball Association for taking this next step."
Check out the Reconciliation Calls to Action.
Article & Photo Credit: The World-Spectator Moosomin
---