Cheer Story: Small Town, Big Delights: Why Radville is Your Next Must-Visit Destination!
---
---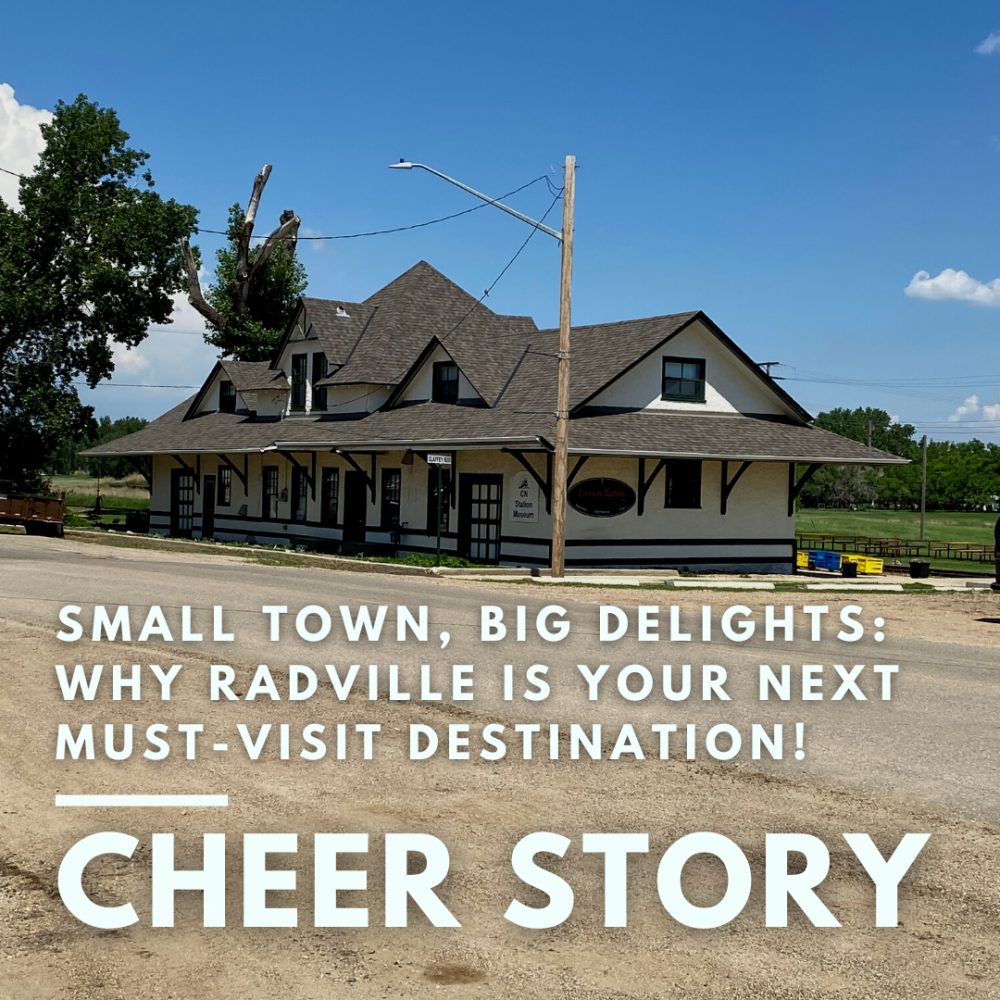 All roads leading in Radville, Saskatchewan, herald a physical slowing down because of speed limits. Metaphorically, it could be interpreted as a place where they encourage one to slow down and smell the roses or enjoy any of the many activities and events this community offers – for which there are many.
One of our first community visits this year was a trip to the town of Radville, where we got to see and explore its many spectacular offerings. We met with new Recreation Program Coordinator Skylar Cancade and long-time museum and community champions Sue Nimegeers and Jeannette Verhelst during our visit.
Sue and Jeannette were kind enough to take us on a walking tour of their many community spaces, including Radville CN Station Museum, McNaught Fire Museum, Bertrand Park (heritage park), ping-pong park, Eva's popcorn stand, with more locations pointed out along the way, along with a discussion of their many upcoming events. What puts Radville in a unique scenario is the development of Tourism Radville. Tourism Radville developed as a not-for-profit in 2006. Like most cities and towns, tourism is not a new concept, but where this differs is its unique pairing of recreation, heritage, culture, and other not-for-profits pairing together to offer their services and opportunities through one voice - Tourism Radville, a not-for-profit run by volunteers, like Sue and Jeannette, along with employees, like Skylar. In tandem, Tourism Radville promotes activities and events that would interest citizens in town and further afield, attracting tourists regionally and beyond. Tourism Radville's mission is "to promote and preserve Radville's heritage as well as bring the community together through events and activities."
There are many heritage points of interest in Radville, and they celebrate this fact. Tourism Radville organizes year-round events, with established popular events being offered annually. Such fan favorites include the Haunted History Tour, which delves into dark histories associated with the town, such as Ku Klux Klan activity, murders, and unexplained mysteries. For those less inclined for the darker sides, fret not; there are also annual tours, such as their self-guided heritage walk, which is accessible 24/7, or their Stories in Stone Tour, which provides a historical tour of the local cemetery, pointing out seminal figures in the town's history. They even cover history harkening back to the ice age with their Missouri Coteau tour, a bus tour that explores the beautiful scenic views, where visitors can learn about the Wisconsin ice cap and the various geographical features that exist due to the ice age. A knowledgeable guide leads the tour groups to the sites, places, and historical moments outside their multiple museums, bringing history to life and making the exploration incorporates components suitable to our physical well-being- such as walking. Due to Tourism Radville being composed of many volunteers with varied backgrounds, hybrid incorporations of recreation and heritage, heritage and art, or geography and recreation abound, making for unique and engaging opportunities.
Of course, we encourage visiting their museums, perhaps the crown jewel of the Town of Radville. The Canadian National (CN) railway station serves as their main museum and boasts two floors and multiple rooms of artifacts tied to the history of the railroad and the town. The CN station was erected in 1912, serving the community until the 1970s. A group of concerned citizens saved the station from demolition, and the building received municipal heritage status in 1984.Just a half block down from the CN Station Museum on the main street is the McNaught Museum, which is focused on delivering the history of firefighting and historical fires that have taken place in Radville, including the recent fire of their beloved town hall. Both museums are physical brick-and-mortar institutions that Tourism Radville promotes on top of their various community activities.
There are events to unite neighbors and friends, such as Poetry in the Park, where local readers, writers, singers, and songwriters gather to experience the power of the written word. They also offer trivia nights and bingo. Volunteers and the town worked together to create all access activities in underused park spaces, such as ping-pong park, where visitors can access paddles, balls, and a table to enjoy a game of ping-pong with friends outdoors at any time. Or there is the park adjacent to Eva's popcorn stand, where fun and activities are kept in bins for all-day, everyday access, which we heard was quite popular on our tour. Did we mention that Eva's Popcorn Stand is an institution?! It was a long-running business for 50 years, run by Eva and Harold McNaught. Eva and Harold retired from the business, and it closed in 1994 but recently had a resurgence, and it is once again running, so make sure to "pop" by and grab a treat of candy or popcorn.
Whether a tourist or a citizen of the town, more than likely, there is always something to do or learn about in Radville. The tourism office is in the CN Station Museum; for the most up-to-date information on hours, contact, or more, please check out their website at: http://radville.ca/tourism/
Thank you to Sue Nimegeers and Jeannette Verhelst for their time, tour, and knowledge, and to Skylar for meeting and letting us know about everything in Radville. Add Radville to your Saskatchewan destination bucket list if you haven't already.
---