Cheer Story: South East District Volunteer Profile - Mark Barnes
---
---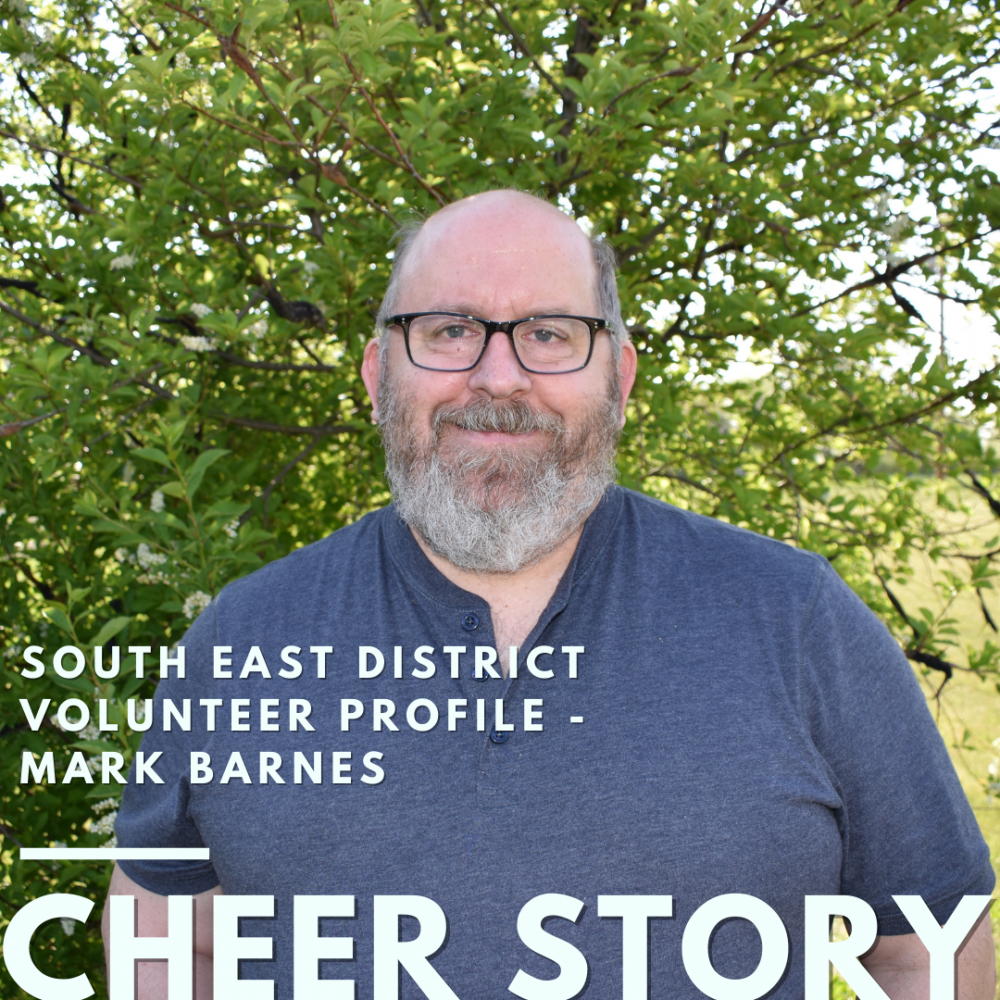 As we celebrate National Volunteer Week this month, we wanted to profile one of our volunteer board members, Mark Barnes (Oxbow)! Mark is ending his five-year stint on the board, and we would like to extend a warm thank you to Mark for his time and commitment to our board team! His jolly and playful demeanor meant our board meetings were always kept light-hearted and fun. We will miss you Mark!
How long have you been a member of the South East District Board?
I have been on the board for five (5) years. I was asked if I would be interested in running for the board at the time that the district staff team, were helping Oxbow examine and redefine our recreation structure. I guess they were impressed, or something, by my humour, willingness to speak up, and attention to spelling and grammar mistakes.
What were some highlights throughout your time with the district?
I have enjoyed my time on the board and there have been many highlights I won't soon forget. There was the planning weekend up at the camp by Kenosee, me with Rider's underwear as a hat, the wonderful fire and camaraderie, and me trying to pop popcorn and telling stories.
Board meeting pre-covid when we would get together. Another highlight was attending various Global meetings and a conference in Maple Creek. It was also great to be able to travel to various communities for meetings and meet many new people who work in the field of sport, culture and recreation. Too many highlights to recount.
What motivated you as a board member?
Motivation - to be part of trying to help develop sports, culture, and recreation throughout the south east. It has also encouraged me to pursue some of the ideas that have been percolating in the back of my mind for a number of years (i.e., community garden, dog park, and gazebo overlooking the valley).
What did you bring to the table as a board member?
I would like to think that I brought humour, ideas, and my well-rounded worldly experience to the table. I guess what I also brought is that I have been very involved in recreation and community groups and events wherever I have lived, and care very much about my community.
Why should someone get involved as a District board member?
I feel that people should participate at the board level as it is an amazing group of people who all care deeply about the services and opportunities in our area and province. There are many opportunities to stretch your knowledge and continually learn more.
The camaraderie is amazing.
Interested in board directorship with the South East District? Check out our prospects package and video at https://southeastdistrict.ca/pages/our-board. Deadline for nominations is May 14, 2021.
---