ED Blog: "Cup of Jo" - Shaping Dynamic Leaders: Our Youth
---
---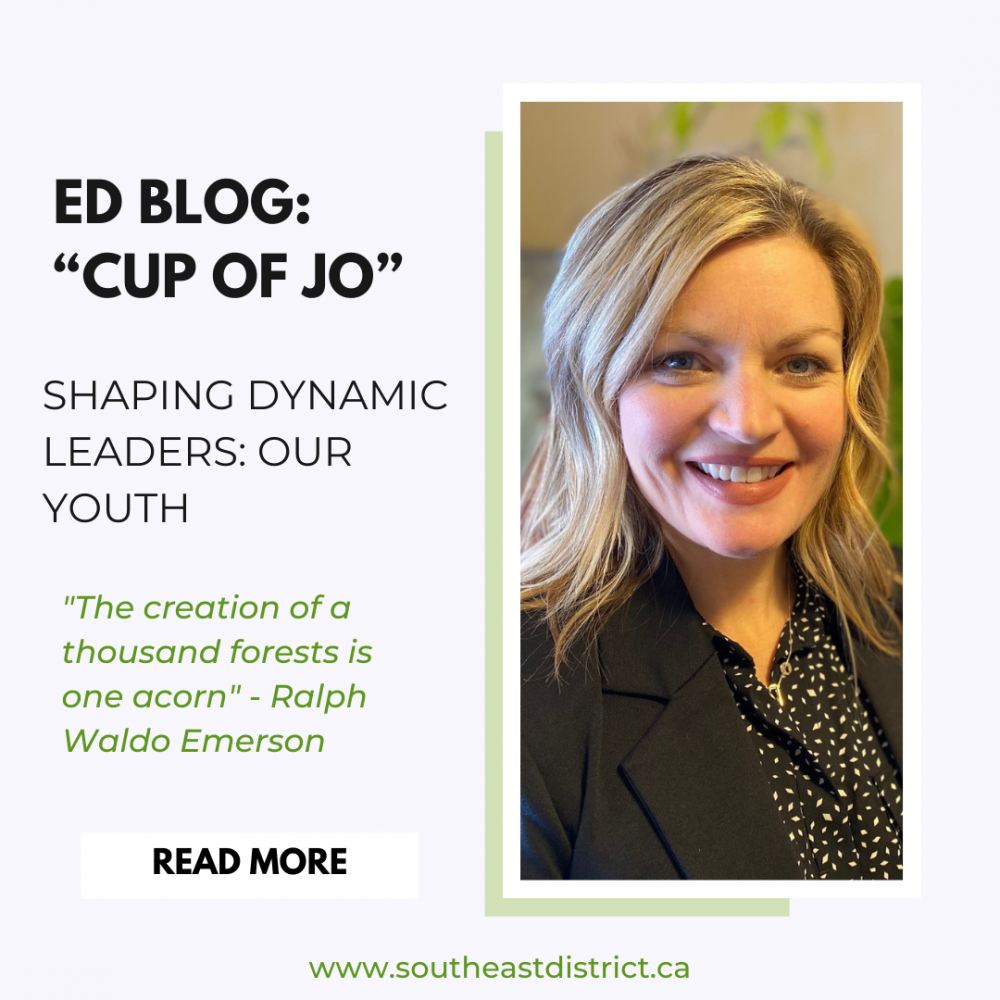 "The creation of a thousand forests is one acorn" - Ralph Waldo Emerson
Every year, we see communities hiring youth for various summer positions - to work at the pool as lifeguards, the regional park as camp or activity leaders, sport groups as assistant coaches, and/or the museum/library as programmers. These opportunities provide so much value for our youth to grow and learn, to build confidence, and to develop life skills!
South East District is offering communities a series of youth training in June targeted at teens who are passionate about kids, sport/arts and active play – and who would like to work as a youth leader in recreation. Youth can choose one course or all courses! Though many people think of leadership as a natural-born gift, it is really a set of skills that anyone can develop through experience and practice. The earlier someone learns those skills, they are more likely to use them throughout their life.
The following leadership development programs help young people develop the skills and confidence to become leaders in their community:
HIGH FIVE® Principles of Healthy Child Development (PHCD)
HIGH FIVE-trained instructors use these principles to create inclusive and inviting spaces for their program participants. This ensures that at every level, HIGH FIVE organizations are committed to delivering the highest standard of programming.
Play Leadership
This training provides Play Leaders with the knowledge and skills they need to plan and coordinate safe, accessible and fun play opportunities for children.
Respect in Sport for Activity Leaders
Statistics show that over 70% of youth drop out of sport by age 13. The Respect in Sport Activity Leader/Coach Program educates youth leaders, coaches, officials and participants (14-years and up) to recognize, understand and respond to issues of bullying, abuse, harassment and discrimination (BAHD). Activity Leader and Parent Programs are the Safe Sport Canada solution!
Ralph Waldo Emerson once said that, "The creation of a thousand forests is in one acorn." Everything starts from somewhere and these leadership workshops are great seeds that can later shape future dynamic leaders!
To learn more or register for these workshops: https://southeastdistrict.ca/event-calendar/post/youth-leaders-intraining.
Apply to our Training Fund to support youth to attend these courses! Visit our funding page at southeastdistrict.ca.
Email: ed@southeastdistrict.ca for more details!
---