New Recreation Facility Wows in Weyburn
---
---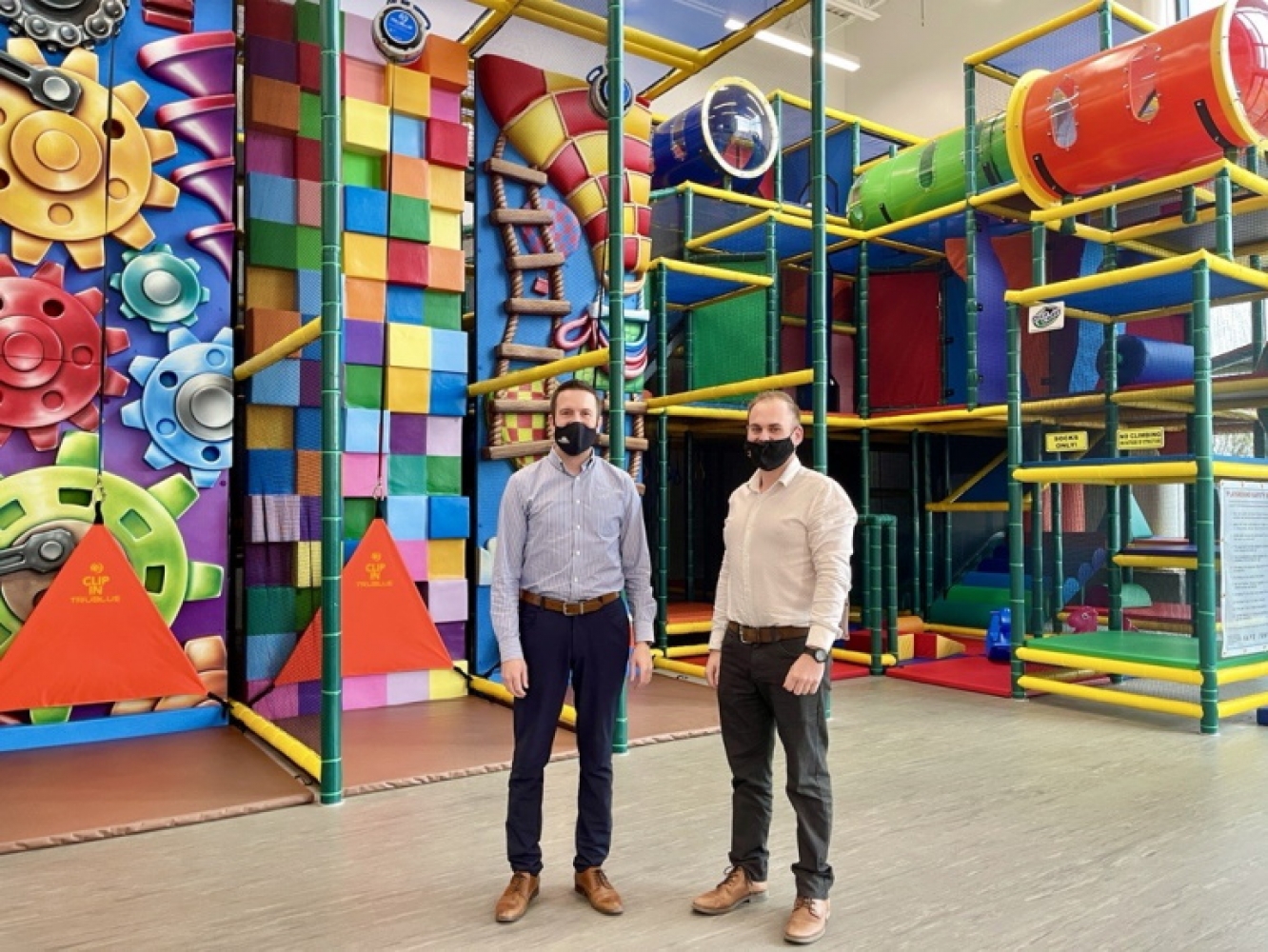 On October 16, 2021, the City of Weyburn officially opened their new multi-purpose sports, culture and recreation facility, the Credit Union Spark Centre. To learn more about this facility, I spoke with Andrew Crowe, Director of Leisure Services for the City of Weyburn.
In our conversation, he shared background information with me about the new facility, the significance of having a facility like this in Weyburn as well as advice for other communities planning a similar project.
What was the Vision behind the facility?
The vision behind Credit Union Spark Centre was to create a multi-generational, multi-purpose sports, culture and recreation facility to offer important healthy and accessible opportunities to every demographic of our community.
The facility was looked at to be a progressive step forward for the City of Weyburn. The Credit Union Spark Centre is completely accessible with barrier-free access points to the building and interior features including the art gallery, pottery studio, multi-purpose rooms, indoor track, simulator room, mini gym, multi-use synthetic field, children's play space and outdoor ice surface.
What are some of the features of this new facility?
The Centre is located within Jubilee Park and acts as a great addition to the already existing opportunities located there, such as:
Weyburn Leisure Centre with indoor and outdoor pools;
1.5 km of tree-lined paved walkways;
Six ball diamonds, specifications of which vary in order to accommodate all levels of minor ball;
Multi-use sport fields and several smaller pitches for soccer and football;
Three tennis/pickleball courts equipped with lighting;
Outdoor rink, and;
Playground area.
What does it mean to you to see the facility open in the community?
Seeing this facility become a reality and watching the faces of individuals light up with excitement when they first enter the facility has been an amazing experience.
The City of Weyburn is so extremely fortunate to have such an amazing community facility offering great sport, culture and recreation programming, rentals and events. The new facility has provided countless new opportunities to members of the public and has given residents that opportunity to participate in activities they enjoy 12 months of the year.
Watching how the facility has been enjoyed by the public since opening its doors has been a reminder of how important Sport, Culture and Recreation are to the Community. The positive feedback lights that 'fire' within to continue pushing as a Professional to provide superior leisure services opportunities to the community.
Seeing the facility open to the community also brings along with it great pride. For a city of under 12,000 residents, it is truly unique to offer such a diverse and loaded facility. The facility is another great attraction to host events, bringing with them athletes, participants and spectators.
The opportunities that come along with the new facility adds even more value to the quality of life available in our small prairie City and provides just another reason for individuals and companies to relocate to Weyburn.
What kind of activities can visitors participate in at the Spark Centre?
"The opportunities are endless at the Credit Union Spark Centre. Every area of the facility was designed in a way to be multi-purpose and accessible, maximizing each space to its fullest potential."
The facility includes:
An indoor playground and wall climbing (for ages 0-12)
Weyburn Art Gallery
Pottery Studio
3 multi-purpose rooms
Joint use kitchen and commons area
Indoor ½ FIFA sized synthetic turf field with divider curtain
Indoor baseball / softball pitching & hitting tunnels
Outdoor NHL sized outdoor rink / multi-use sport pad
220M indoor exercise track
"Mini-Gym" with space to support Pickleball, Badminton, Volleyball, Basketball courts and more.
Multi-sport video simulator room, featuring:
4 screens; 80+ Championship Golf Courses; 35 sports games; Hunting & Shooting package (i.e. Buck Hunter, target shoot), and;
Access to a full-sized athletic gym through the joint use agreement with the Legacy Park Elementary School
What feedback have you received from the community about this new facility?
Feedback from the community has been outstanding. People of all ages are thoroughly excited about what they are able to participate in at the facility. There is a lot of general excitement about a facility where people can participate in a diverse array of activities 12 months of the year.
Senior citizens and the running community now have an indoor facility to make use of during the long winter months. Local 'fair weather' user groups such as soccer, baseball, lacrosse, football players and more are very excited to participate in camps, leagues, training exercises and more all year long.
I've been hearing, "It doesn't feel like we are even in Weyburn when we walk through the front doors."
What advice would you give to other communities planning a similar project?
The project does not take shape overnight. You need to plan, plan, and plan some more. Prepare and forecast expected operating costs to determine that the project is sustainable so you can establish your long-term budget plans. Ensure you have adequate funding in place before putting shovels in the ground.
You cannot rely on grants and community contributions to complete a project of this magnitude. Prepare to make high-stress, high-cost decisions as they arise throughout the project, and make sure you have the proper contingency funds in place.
Hiring an experienced, qualified Project Manager is so important, and will make the entire process much more manageable. Especially if you still have your "regular job" on the go throughout the duration of the planning and construction phases. Keep your project team small, educated and coordinated. Too many voices will cloud judgment and create the opportunity for more challenges.
Community and user group needs assessments are extremely important to ensure you provide what is needed. Be sure to listen to their requests. Take cost savings on building finishes to ensure you are investing in high quality amenities (I.e., turf quality, track quality, technology, etc.).
This will result in an enhanced user experience and usually a more durable product. Residents will never know if you took a different ceiling tile than the one specified in the original architectural drawings. Lastly, you can never have enough storage!
Where can people find more information on this new facility?
More information on the Credit Union Spark Centre can be found here: https://weyburn.ca/credit-union-spark-centre/
Article Courtesy: Dan Gallagher, SPRA Field Consultant
(Director of Leisure Services with the City of Weyburn, Andrew Crowe, left, and Manager of Leisure Services with the City of Weyburn, Ryan Dale. Photo by Denis Conroy, DiscoverWeyburn.com. Used with permission).
---