Cheer Story: Past, Present and Future: Reconciliation and Taking up Space with Geanna Dunbar
---
---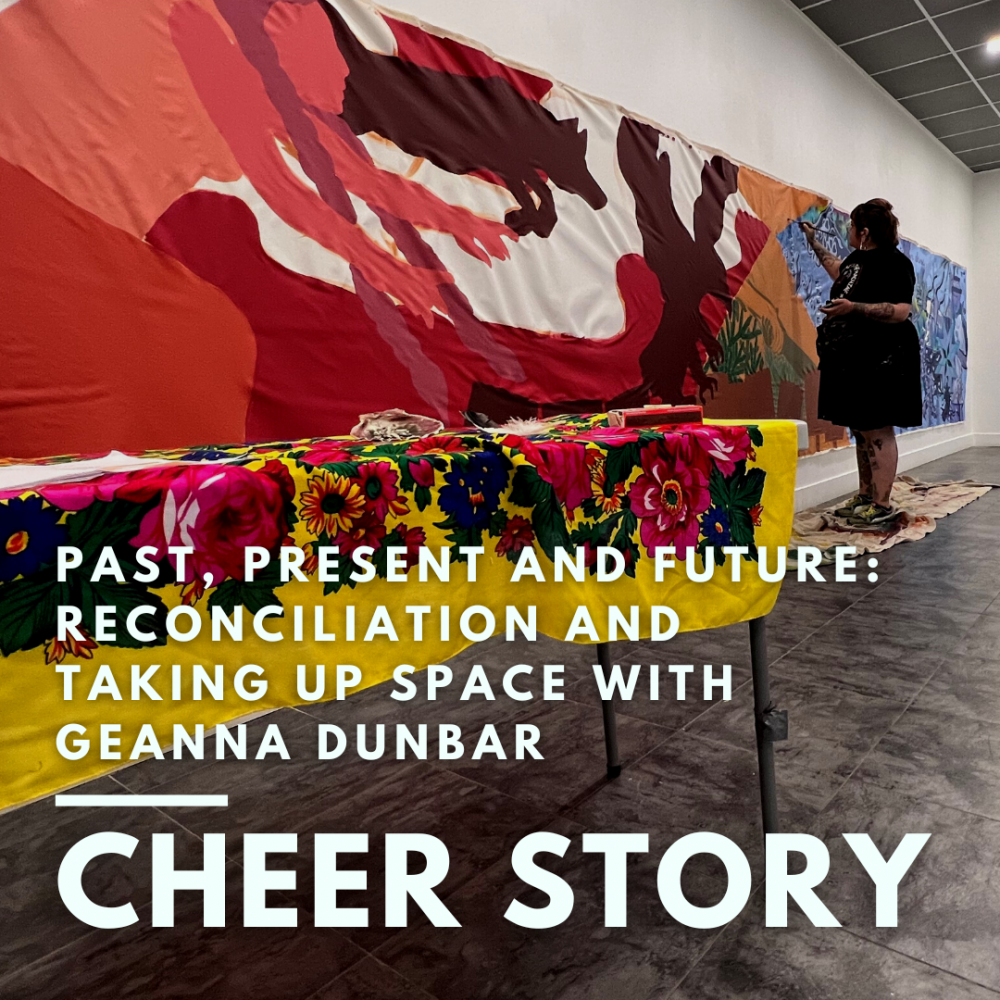 Geanna Dunbar's artist residency at the Estevan Art Gallery and Museum
The following information was collected during an interview with the artist on September 08th, 2023, while on location during a two-week-long mini-artist residency at the Estevan Art Gallery & Museum, Estevan, SK.
"Altar-Native", September 08th – November 10th, 2023
"Reconcil-onialism", September 08th – November 10th, 2023
Geanna Dunbar is a Cree-Métis artist who lives in Regina. To pin down her creative research and explorations is an absolute exercise in futility; she is a tattooist and piercer and provides body modification; she is also an entrepreneur, mixed media artist, public art enthusiast, collaborator, and maker, not to mention she is a traditional Indigenous tattooist, having completed an apprenticeship with Indigenous artist and tattooer Stacey Fayant. The simple moniker of artist would suffice but lacks the nuance and the understanding one has when the journey is somewhat spelled out – and provides context for what inspires her and brings her to this body of work.
Currently, her artworks fill both gallery spaces at the Estevan Art Gallery & Museum.
The artwork in the Gallery I space, in the "Altar-Native" exhibition, represents the past and present periods of time and the impacts of colonialism on Indigenous people in Saskatchewan. The mixed media artworks combine two and three-dimensional materials and, as the name implies, represent her version of altars. These composites contain religious elements but are not specifically religious. The intention is to provide context for discussion around colonialism and its effect on practicing Indigenous traditional beliefs. Each altar also contains organic elements and items ethically sourced and obtained by Geanna in her interactions with Indigenous artisans, elders, friends, and family throughout different treaties. She states, "We are all part of an ecosystem and world," and thears provide space for the many ancestors, allowing them to take up space.
If the altars represent the past and present, the mural depicts the present and future of growing up Indigenous in the 21st century in an urban location. Unlike the altars that are earthy in tone and feel, Geanna's mural is vibrant and graphic. The palettes and media have been carefully considered. Walking from one space to another generates a feeling akin to shifting from looking at sepia-toned vintage photography to contemporary graphic design. The mural in the Gallery II space is temporary, painted onto canvas; it will be removed once her exhibition ends. "Reconcil-onialism" spans the entirety of one of its walls. Thematics explored in this work include decolonization and healing from generational trauma. An overall design of the mural was created before arriving at the gallery. However, she did leave some aspects open to occur organically. "Reconcil-onialism" explores resistance – both of society to change and Indigenous people forging ahead and furthering their culture. Studying the mural provides context that there is much work to do, but there is hope.
The residency ended in a public meet and greet with the artist on September 15th, where she spoke to the attendees about her inspirations and what the artworks meant to her. The last component of the residency included a return to Estevan to create two smaller murals with local school-age children that focused on reconciliation.
The South East Sport, Culture, and Recreation District would like to thank Geanna for meeting with us, sharing her knowledge and processes, and letting us photograph her work in progress. It provided so much insight and was a joy to see and discuss. We would also like to take this opportunity to welcome Tye Dandridge-Evancio as the new Director/Curator at the Estevan Art Gallery & Museum. Welcome to the South East District, Tye!
Both exhibitions are open to the public until November 10, 2023. Admission is free. For the most up-to-date information regarding exhibitions, classes/workshops, events, hours, and more, visit www.eagm.ca.
---