Tips For Keeping Your Outdoor Rink Smooth All Winter Long!
---
---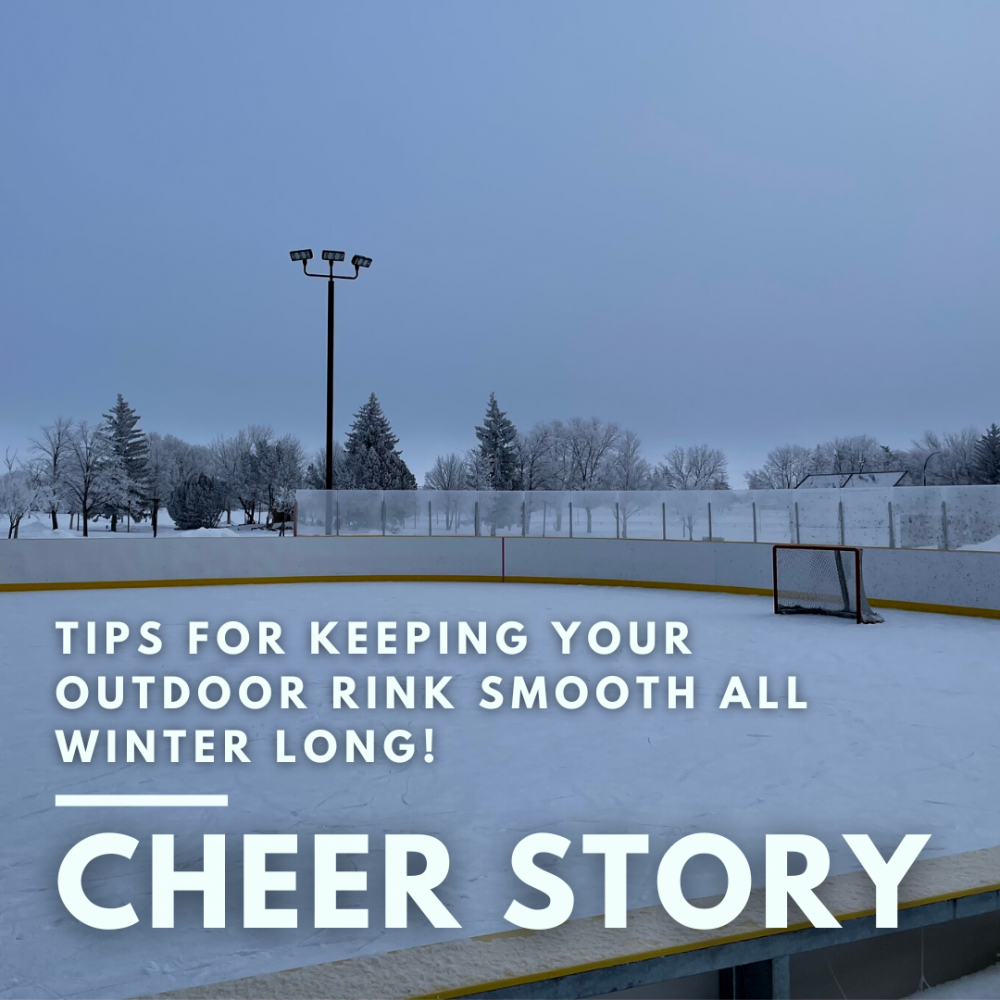 Outdoor rinks are a great place for communities to share the joy of skating and are perfect for families and friends to spend some time having fun together. An outdoor rink can provide enjoyment all winter long.
The City of Weyburn recently opened a new outdoor rink at Jubilee Park, which is operated and maintained by the City of Weyburn Parks & Leisure Department. The rink features a 200ft x 85ft multi-use pad equipped with benches, dasher boards, lights, and access to Credit Union Spark Centre dressing room.
Andrew Crowe, Director of Leisure Services for the City of Weyburn shared his thoughts on how to run a successful outdoor rink.
What are some challenges to having an outdoor rink?
The weather.
Finding time to build the ice with a structured scheduled staffing environment.
Providing fair and equal access opportunities.
What are some solutions to those challenges?
Begin making ice as soon as possible, build the ice as thick as possible (we aim for 8 inches) to carry you through warm weather trends as they appear throughout the winter, this will also carry you further into the spring.
Limit scheduled programming, however, set aside time on the ice for a stick and puck-free environment to make things more enjoyable for "non-hockey skaters" or those learning to skate.
Due to structured employee hours, give yourself a long lead time to opening the rink and understand that you may be unable to have the ice in at the very second the public expects it. Or better yet, form a partnership with a local community group that may be interested in making the ice and maintaining it through the season.
What are the top 3 key steps to consider when building an outdoor rink?
Base – find an area that is as level as possible, and whenever possible build ice on a hard surface i.e., pavement, concrete, etc. When making ice in a park setting, be prepared to use more water, or utilize a tarp or some sort of vapor barrier to stop water from being absorbed into the ground. Building ice on grass areas may also be detrimental to the health of the turf in the spring so keep this in mind.
Find an area sheltered and out of the wind, for skater enjoyment and to ensure staff or volunteers making ice don't get too cold when performing maintenance.
Water availability – this may seem like an obvious one, but having water available is the most crucial item when planning out a rink
Any other considerations for maintaining or reducing the risk of outdoor rinks?
Outdoor rinks should be inspected regularly by trained staff and any issues that may result in an increased chance of injury should be addressed immediately. Or if unable to be addressed quickly the ice surface should be closed
Lots of 'Use at your own risk' signages, along with recommendations for protective wear, but do not make things mandatory or you will have to enforce them. Leave a contact number and or email for community members to reach out if they have concerns.
What value or benefits do outdoor rinks bring to the community?
Outdoor rinks are a huge benefit to the community as they provide a free barrier-free avenue for outdoor leisure activity. We also find they become a great centre piece for community celebrations and events. As times are getting tighter for families due to inflation it is important that communities continue to offer free to use services for our community members to get out and get active.
---